My favorite piece of art isn't a Monet, Renoir, or Michaelangelo. It isn't priceless. My favorite work of art is a painting called, "Gold of Venice" by Marko Mavrovich. It is an impressionist style painting of the Venice canals. Most art critiques wouldn't have it hanging on their walls but it is hanging on mine. You see there is an incredible story about how I came to own this beautiful painting.
Alex and I were engaged to be married when he won a cruise to Mexico. It was his very first sales award. Even though the trip was only two weeks before our wedding, it was an opportunity we couldn't pass up. We boarded the ship and got ourselves sorted in our cabin. We roamed the ship and passed through the art gallery on our way to the buffet. We slowed our pace as we took in the different styles and artists exhibited. There were comic-like caricatures, Andy Warhol-inspired pieces, impressionist look-alikes, and sketches from the likes of Renoir. It was beautiful to see a mashup of so many expressions in one place. In a way, it felt like a disjointed backroom of a major art museum.
Some pieces I wouldn't hang on my walls if you paid me and others I would have given half the blood in my body to have.
We both walked past "Gold of Venice" and it made us stop. It was stunning. 
The way the artist captured the sunlight as it cascaded through the canal and reflected off the water below. The painting transitioned from color to color in a pattern that wasn't quite real life but more like a dream. We both saw ourselves there.
I could feel the cool stone of the buildings and the connecting archway perched over the canal. I could hear the gondolas bobbing rhythmically tied to the side. I could smell the baking bread, sundried seaweed, and a slight scent of varnish…no doubt from the gondolas themselves. I've never been to Venice but at that moment I went to the place I envisioned it to be.
Alex and I were silent as our eyes tracked across the expanse of the canvas noticing new details with each moment. Art appreciation cannot be rushed. It must be devoured slowly like the most delicious meal. After a few moments of silence, we looked at each other with a sense of awe.
"Love this one." Alex said.
"Me too. I hope we own things like this someday." I responded. 
We carried on to the back of the ship where we indulged in the delicacies offered at the buffet. Over the next few days we danced, we swam, we worked out, we toured the port city, and we ate like kings and queens.
We passed "Gold of Venice" several more times over the course of the three-day cruise. Each time our love of it grew. We would pause, admire it and walk on. We both felt that art like that belonged to people beyond our season of life.
On the last day, the Cruise Director announced the final art auction was about to begin. Alex and I were lounging by the pool and he said, "Let's go to that."
I had never been to an art auction. I had been to plenty of art galleries but never wearing a bikini and a coverup. I told him we should probably go and change our clothes. Alex was in a tank top and swim trunks but was insistent we don't miss it.
"Who cares, they know this is a cruise ship!" he implored.
"Ok," I acquiesced.
We arrived in a large ballroom which served as the stand-up comic's stage the night before. It smelled like musty beer and cigarettes. It was dim compared to the bright sun of the upper deck but the stage was carefully lit with an easel placed at center stage. Most of the people in the room were 30 years older than we were. They were properly dressed. A waiter approached us with glasses of champagne and explained they were complimentary. It was clear we didn't know what we were doing.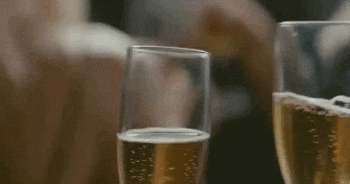 Alex happily took his glass, clinked mine, and took my hand to take a seat in the middle of the room. A few high-end paintings went up on the block without being sold. Then a small painting of a red-colored canoe bouncing on the sea went up. I think it went for $2500 or something.
Too rich for my blood, I thought. 
A few more paintings went up on the block and sold to the highest bidder. I was getting bored and discouraged.
"Let's go, Alex," I said.
"Wait let's see if our painting goes up? I just want to see how much it goes for," he replied.
"Ok, a few more minutes but if it doesn't let's go back to the pool."
I felt out of place and under-resourced for the art auction crowd. I didn't want to be with the stuffy passengers and the slick auctioneer. I wanted to be comfortable with the low-brow drunks at the pool. I sipped the last bit of my champagne.
The assistant to the auctioneer carried in "Gold of Venice" and placed it at the center of the stage. It was showing off up there glistening in the spotlight. 
The auctioneer opened the bidding at $1600.
There goes that, "let's go" I thought.
Alex threw up his bid card.
"WHAT ARE YOU DOING?" My mind raced my heart pounded.
The auctioneer upped the bid to $1650. There was silence in the room.
No one.
No one.
Last call for "Gold of Venice"?
SOLD.
I shot up out of my seat and screamed with delight. I squealed like a high school cheerleader for the winning touchdown. It was an unattractive raw moment of pure joy. I turned to Alex and laid a kiss on his face that was probably shameful to those around me. I had no idea how we were going to pay for the painting but I was so excited that it was ours.
"I wish everyone would respond that way!" The auctioneer joked.
To my surprise, the room erupted with laughter and applause. They were older, wiser, and probably had more money but they all appreciated art. They loved the way it transported them to other places. They knew deep down how much this painting would mean to us and how many years it would bring beauty and delight to our home. That room of stuffy old men and women were friends that day. It was the day we were inducted into the art collectors community.
"This can be our wedding present to each other," Alex said.
It was one of the first times my husband blessed me with an extravagant gift. It wouldn't be the last, but it has been one of the most memorable. We have continued to collect various paintings from around the world. We have a wall in our home that has become our gallery wall. I sometimes sit in that room and relive the moments we received or purchased each one. None of them were quite as exciting as "Gold of Venice," but they all tell a story.
I hope I have the chance one day to celebrate with a young couple at an art auction that purchases their first piece of art. I hope they display unbridled enthusiasm that makes everyone around them cheer. That would be a good story to tell.
I know the post today is a bit different but I wanted to share a thought that even when we don't feel like we "fit in" our enthusiasm overcomes our status. Happy people make people, happy. Sometimes a stuffy room just needs a breath of fresh air. Amen?
Hope you liked this little change of pace.
Mucho Love,